Journey To School... What are the Rules?
May 2013 - Teaching pack & Project Feedback Form

Teaching Pack Download
- Please download the teaching pack for use within your school and return the project feedback form to STEP asap.

Feedback Form - We would appreciate feedback on the project materials. These can be faxed to 028 877 50212, emailed to roisin@stepni.org or posted to the STEP office, Unit T7, Dungannon Businesss Pk, 2 Coalisland Rd, Dungannon BT76JT
Please note that the interschools competition detailed in the teaching pack has now ended.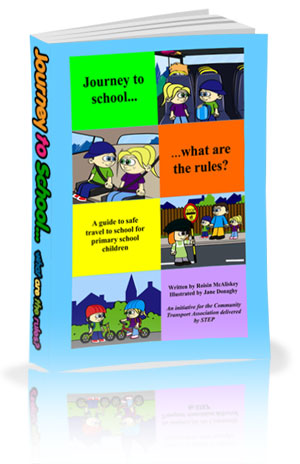 These booklets are the products of projects funded by the Department of the Environment (DOE), Road Safety & Vehicle Regulation Division (RS&VRD), through Community Transport Association (CTA), which administers the road safety grant on behalf of the Department. The booklets are aimed at primary school children with the intention of illustrating road safety issues. The first booklet from the 2012 project shows children how to travel to school safely using the various different methods available and the 2013 booklet gives little scenarios in which the children are asked to decide what the right decision is to get them to their destination safely..
Note to parents, guardians & teachers
As well as short storylines which young children can enjoy, the booklets contain more in depth safety regulations which parents, teachers and older children should read and discuss with the children. It would be beneficial to take time to explain and talk about some of the book concepts such as "lollipop person"; "booster seat"; "distractions"; "safety helmet" etc. and encourage open conversations about other aspects of safety. More about the development of the book...