About the Journey to School Booklet
May 2013 - Teaching pack & Project Feedback Form

Teaching Pack Download
- Please download the teaching pack for use within your school and return the project feedback form to STEP asap.

Feedback Form - We would appreciate feedback on the project materials. These can be faxed to 028 877 50212, emailed to roisin@stepni.org or posted to the STEP office, Unit T7, Dungannon Businesss Pk, 2 Coalisland Rd, Dungannon BT76JT
Please note that the interschools competition detailed in the teaching pack has now ended.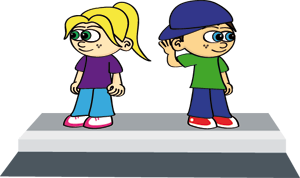 Written by Roisin McAliskey
Illustrated by Jane Donaghy
An initiative for the Community Transport Association delivered by STEP
The materials are product of a project funded by the Department of the Environment (DOE), Road Safety & Vehicle Regulation Division (RS&VRD), through Community Transport Association (CTA), which administers the road safety grant on behalf of the Department. The 2012 booklet "Journey to School – what are the rules?" centers on two characters, Maria and Mark, showing their safe us of the various methods of travel to school each day.
Feedback from this initial booklet suggested that a further publication with scenarios that children could decide what action the characters should take might be a useful learning tool – this has resulted in "Road Safety Rules – What Would You Choose?". Copies of this have been sent to every primary school in NI as part of the project.
An additional aspect in 2013 is the Teaching Pack resource which has also been distributed to all primary schools. The teaching pack for the project is a 48-page full colour resource for primary school teachers. It will afford teachers the opportunity to present various activities and exercises involving a range of subjects including PDMU, WAU, art, drama, English, media etc. based on road safety issues to their pupils. Covering both keystage 1 and keystage 2 levels, the resources are a mix of individual, pair and group exercises. Each exercise will include explanatory teachers' notes and pupil instructions, and where required, pupil worksheets. The resources required for each activity and the age group will be noted at the top of each exercise.
There are specific exercises which are noted as competitive exercises whereby each school can submit their top entries to appear in a showcase event in early May 2013. Individual prize winners and their school will receive certificates of recognition and small prizes and trophies.
All booklets are available in English, Lithuanian, Portuguese, Polish & Russian

Note to parents, guardians & teachers
As well as a short storyline which young children can enjoy, the booklet contains more in depth safety regulations which parents, teachers and older children should read and discuss with the children. It would be beneficial to take time to explain and talk about some of the book concepts such as "lollipop person"; "booster seat"; "distractions"; "safety helmet" etc. and encourage open conversations about other aspects of safety.
Supported by DOE Road Safety Grants, administered by Community Transport Association and delivered by STEP